Hiragana and Katakana Quiz
The hiragana and katakana was created to help students of the Japanese language with their first step learning Japanese.
It makes easy to memorize the letters, or kana カナ, of the two most simple Japanese alphabets, called hiragana and katakana.
To do this, the quiz has questions asking how these Japanese letters are pronounced using our alphabet, that is, using the romaji of each kana.
Setting Up The Quiz
Check the lines of the chart with the kana you wish to study and click o nthe start button. You can choose if you want questions in hiragana or katakana alphabet, or both, and if the questions should include diacritics, also called dakuten.
To conclude your basic Japanese study you need to memorize both hiragana and katakana, including the kana with diacritics. Check the kana chart to have a better idea of the answers.
You can also choose the style of the questions in the quiz. There are 3 styles:
A kana is shown and you must pick the matching romaji.
A romaji is shonw and you must pick the matching kana.
A hiragana is shown and you must pick the matching katakana, or vice-versa.
Understading The Quiz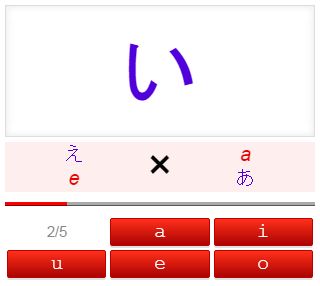 When the quiz starts you'll see in the bigger rectangle a kana or romaji depending on the question style and five choices will appear as buttons around it.
You must pick the correct choice clicking on the button. Then the next question will appear and the correction of the question you answered will be shown under the bigger rectangle.
You can review the corrections of the questions after finishing the quiz. They will appear at the bottom of the page.